1.How to Order
---
1.1 Guide For Custom Made Apparels
In order for us to prepare a quotation for our clients, information below are needed:
✓ Product Type
✓ Product Visuals & Designs
✓ Product Quality & Quantity
✓ Printing Methods/Embroideries
✓ Expected Date of Delivery
Clients are required to gather all the information and email to
[email protected]
We will send out a quotation email in approximately 1-2 working days upon receive your enquiry. After agreement had been reached, please prepare relevant artwork file in either ai, eps or jpeg format for us to process with a preliminary sample product. After all the designs and changes had been finalized, we can start to manufacture your desired products.
2.Embroidery & Printing
---
2.1 Embroidery
Embroidery is the handicraft of decorating fabric or other materials with needle and thread. It may also incorporate other materials such as metal strips, pearls, beads and more. Embroidery is available with wide range of thread colours. In modern world, embroidery is stitched with a computerized embroidery machine using patterns digitized with embroidery software. In machine embroidery, different types of "fills" add texture and design to the finished work. Machine embroidery is used to add logos and monograms to business shirts or jackets, gifts and teams' apparels. Embroidery prices are charged based on the number of stitches on your logos and products.
✓Quality Image
✓High Durability
✓Multiple Colours Are Possible
✗ Expensive for Larger Logos
✗ Difficulties to Visualize Smaller Font Size Texts
2.2 Printing
At Collar & Cuff, we are professionals in apparels printing. Whether it is a simple one colour printing or more complicate multi-colour printing, just send in your artwork and we will arrange the best service available for you. Over here, we have skillful workers to assist to achieve your requirements.
---
2.2.1 Screen Printing
Screen Printing has become the most used method in printing industry. It is very flexible in its use of colour and ability to print on vast array of materials. Screen printing continues to be the most effective and economical printing method around.
✓ Low Cost for High Volume Printing
✓ Long Lasting and Durable Inks
✓ Suitable For Varieties of Fabrics and Materials
✗ Higher Initial Cost which include Block Charge (One Off Charge)
2.2.2 Flock Printing
Flocking is one of the most refined printing methods. It produces a velvety, slightly raised surface which feels like 3D. This method is well suited for designs without colour gradients, titles and logos.
✓ Pleasant Appearance and Vibrant Colours
✓ 3D Effect On The Surface of The Design
✗ No Colour Blending is Possible
✗ Higher Cost of Production
2.2.3 Heat Press
Heat Press applies custom designs to items like t-shirts through the help of heat and pressure. The more common method is digital print in which the desired graphic is first digitally printed on special paper. After that, the image will be transfer onto the product from the paper.
---
✓Suitable for Low Quantity Printing
✓Can Use Several Colours as long as No overlapping
✗ Slightly Higher Cost
✗ Lower Durability of Printing Image
2.2.4 Dye Sublimation
Sublimation involves using special ink and steam to allow us to produce a very smooth and impalpable print. In most case, a sublimation printer is required together with special ink, to print on a special coated paper which will then transferred onto material with specific polyester content using high pressure and high heat.
✔ Vibrant Colours
✔ No Limitations on Images and Gradients
✔ High Durability
✗ Only Suitable for Products with Higher Polyester Content
✗ Expensive Printing Method
2.2.5 Yarn Dyed Fabric
When a fabric is yarn dyed the color is placed in the yarn or threads before weaving as opposed to the color being printed on the fabric after being woven. It is suitable for stripe designed fabric or contrasted patterns on fabric.
---
✓ Comfortable for Stripe Designed Apparels
✗ Higher MOQ (Minimum Order Quantity)
✗ Longer Lead Time
✗ Slightly Costly
3.Fabric Guide
Fabric plays an important part in determining the suitability of printing techniques and production cost. To name a few common fabrics in the market include 100% cotton, polyester, cotton/polyester blends and microfiber.
100% cotton


✓Soft and Comfortable
✓Heat Absorbent
✗ Wrinkles Easily
✗ Prone to Shrinkage
CVC (Chief Value Cotton)


✓65% Cotton / 35% Polyester
✓Soft and Comfortable
✓Wrinkles Resistant
✓Sweat Absorbent
✓Most Widely Used Fabric in Apparels Industry
TC (Tetron Cotton)


✓65% Polyester / 35% Cotton
✓Wrinkle Resistant
✓Strong Durability
✗Warm Feeling
✗Non-sweat Absorbent
Microfiber


✓Widely used in sportswear manufacturing
✓Shiny Surface
✓Dries Up Quickly and Washable
✗Non-sweat Absorbent
✗Sticky and Warm Feeling
Microfiber Cotton


✓Shiny Surface
✓Sweat Absorbent
✗Slightly Higher Cost of Production
✗Higher MOQ (Minimum Order Quantity)
Spandex Cotton


✓Suitable for Sportswear
✓Smooth and Comfortable
✓Excellent Stretch and Recovery
✗Slightly Higher Cost of Production
✗Higher MOQ (Minimum Order Quantity)
4. Accessories
At Collar & Cuff, we provide customers with "For You Only" service. As our valued customers, you can have the say on the designs and make changes to the accessories to customize your products the way you want them to be. Below are the few accessories that can customize:
---
4.1 Collars and Cuffs
Over here, we provide different collars' designs for customers to customize their product that can fit in with the designs well. We also have J-Quard collar and J-Quard cuff for customers.
---
4.2 Buttons
We do offers a wide range of buttons for customers to choose from. It ranges from button sizes, button colours, button materials to the extend that, we can print or engrave wordings/logos/images on the button.
---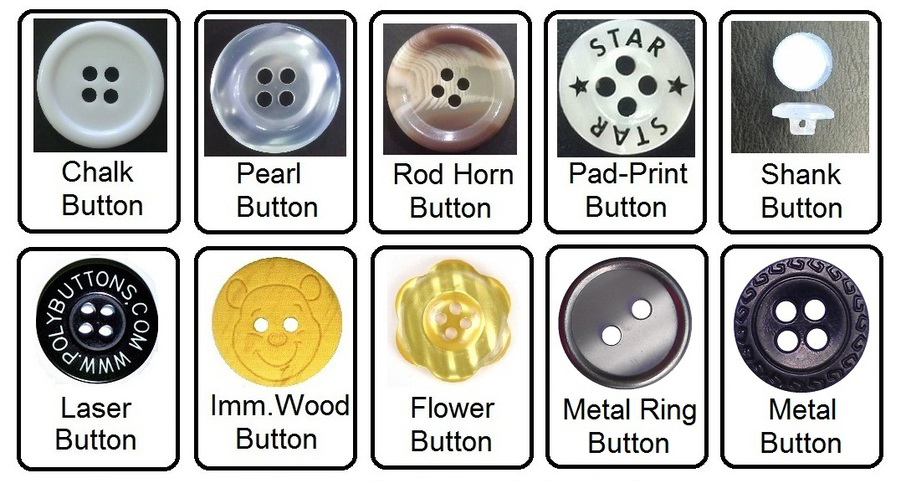 4.3 Labels
At Collar & Cuff, we are offering assistance on the custom made label production and we also provide service to sew or print the label on your products for you. There are various label sizes, colours, patterns and designs available to suits your specific requests..
---
4.4 Poly Packaging - Custom
Collar & Cuff has been assisting customers which are retailers that sell products under their brand names. Poly packaging is the additional one stop service that we provide for customers to reduce the supplying chain.
---